multitetris is cooperative multiplayer tetris on a multitouch table.
move and turn the pieces with your hands. or your elbows. or your ears.
pass them to your friends. steal them from your enemies.
stack them up in midair. teleport them into your glowing architectural masterpiece.
the higher levels have crazy pieces with one to five blocks. crazy pieces!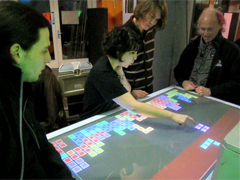 history
multitetris was written for the 26C3 multitouch hackfest at c-base, mostly on january 3, 2010 with several improvements the next day.
in all photos and videos here, it is shown running on the c-base mtc.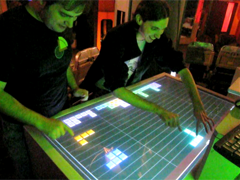 code
multitetris is written in python and is part of the libavg distribution.

svn co https://www.libavg.de/svn/trunk/avg_media/mtc/multitet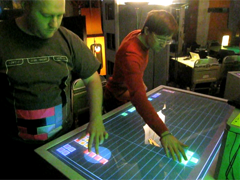 acknowledgements
Martin Heistermann
Ulrich von Zadow
c-base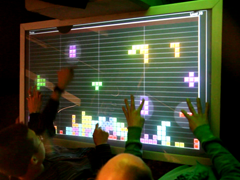 contact
Ka-Ping Yee
+1 510 6·12·18·24
pingatzestydotca